It's sure looking like an early spring.  I hope it stays.
I even cooked my lunch on the porch.
Nothing fancy.  Just cream of celery soup and crackers cooked on my propane heater/cooker.
I even brought my car up beside the cabin.
I had a wreck caused by dehydration causing me to black out. (syncope) I was in a parking lot so it wasn't as bad as it could have been.  I'll cover a problem I discovered with too much pine needle tea.  I'll cover that later.  I have done some repairs so the car is drivable.
BEFORE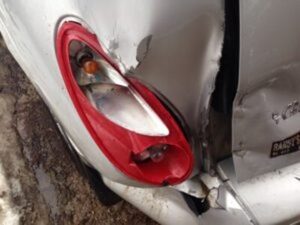 AFTER
---
Some of you may wonder how I write and post pictures "off the grid".  I cheat. I am off the wired grid but I still have cell service and a generator.  Cell service is sporadic and I usually need to go outside to connect.  But for writing I have these.

That is an 8 inch Ellipses tablet and a tiny Bluetooth keyboard.  And behind that is a paper notebook and a couple of pens.  I can also watch downloaded episodes of Grizzly Adams on the tablet.
The very basic start of my outdoor workshop.
The weather held out long enough to finally finish the porch deck.
Next up.  The porch roof.
Now that I know the old shed has tranformed into an insulated, heated cabin that can withstand the winter weather, I can officially call it a homestead.  Lot's of things to do such as building a greenhouse and preparing to put in a garden.  Maybe even some livestock.  Chickens or rabbits most likely but not cows.  We'll see.  The goal is turn the place into a self-sufficient homestead.
But this January thaw and heavy rain has brought up another problem.
I need to dig a drainage ditch.  With the amount of ground water I may actually start a spring.
Finally a break in the weather so I could get the porch deck finished.  Almost.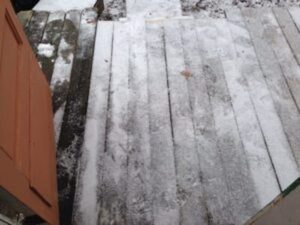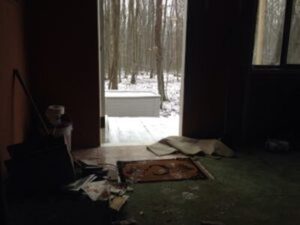 I'm back from Chicago.  Hope everyone had a nice Christmas.  I'm spending New Years tonight in the cabin.
This is kind of like what the porch will look like halfway.  Most boards are not attached yet.
Actually only half the framing is done.  But it is solid.