The weather held out long enough to finally finish the porch deck.
Next up.  The porch roof.
Now that I know the old shed has tranformed into an insulated, heated cabin that can withstand the winter weather, I can officially call it a homestead.  Lot's of things to do such as building a greenhouse and preparing to put in a garden.  Maybe even some livestock.  Chickens or rabbits most likely but not cows.  We'll see.  The goal is turn the place into a self-sufficient homestead.
But this January thaw and heavy rain has brought up another problem.
I need to dig a drainage ditch.  With the amount of ground water I may actually start a spring.
Finally a break in the weather so I could get the porch deck finished.  Almost.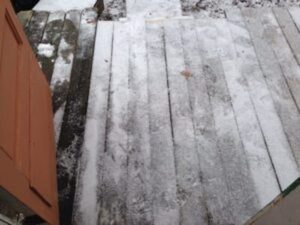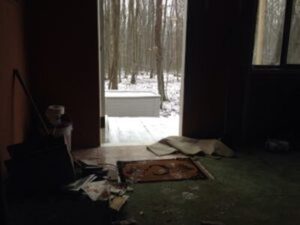 I'm back from Chicago.  Hope everyone had a nice Christmas.  I'm spending New Years tonight in the cabin.
This is kind of like what the porch will look like halfway.  Most boards are not attached yet.
Actually only half the framing is done.  But it is solid.
What are you looking at.  You never saw horses before?
It even works outside in the Allegheny Wild
Some folks call it an Adirondack Chair but I'm going to call it an Allegheny Chair.  It's like an Adirondack only more crooked.  It's not yet finished since I need some shorter screws for the back slats.
You can't see it very well in the photo but at 11:44am Nov 19 the first real snow of the season started.
12:05pm and the ground is already covering.